Ahhh...I miss it already.
We picked the kids up from school early on Thursday. We were going to go through Burns and Bend but decided at the last minute just to take the interstate (the weather was bad both ways but way worse over Santiam Pass (required chain up) than to go over Ladd Canyon and Cabbage. There was quite a bit of snow on The inter-state and the big rigs had to chain up but it wasn't too bad.
When we got to the Columbia River there was a huge paddle boat that was a casino. It reminded me of Tom Sawyer and Huck Finn. Between Arlington and John Day, there are cliffs all along the left side of the highway. We spotted several small herds of Mountain goats and Big horned sheep. It was pretty cool.
The Multnomah Falls were beautiful!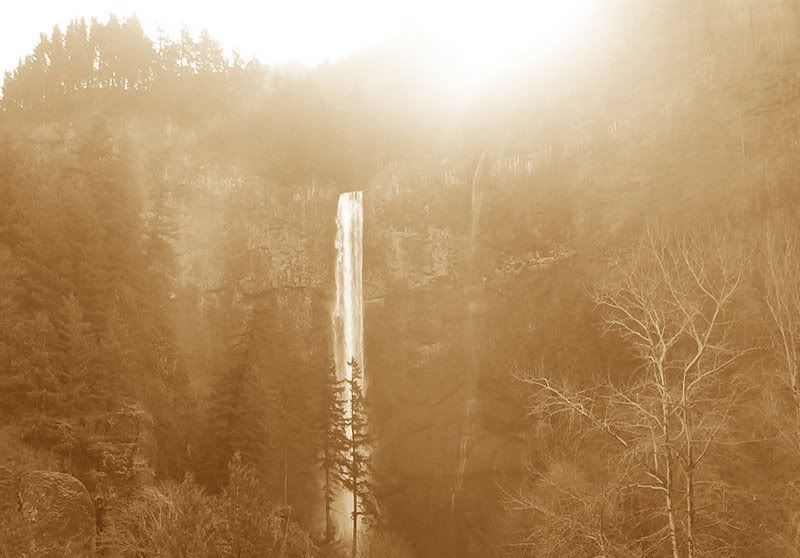 We didn't get to the hotel til 8:30 or so. We dropped our stuff off at the hotel and went potty (we all had to go bad! LOL) and then we ate dinner at Lee's Chinese Restaurant. I had the terryaki chicken, it was yummo! On the way back to the motel we stopped in a park to listen to the waves. I have so missed that wonderful sound. I could have slept right there.
The next morning I set the alarm to walk the beach and look for glass floats. It was sprinkling a bit and sort of chilly. Tyleigh was sleeping and Joshuas shorts were too small (he packed himself) so Jared and the other 2 kiddos went with me to the beach. Walking the beach was amazingly relaxing, even thought my toes were frozen...lol I didn't find a float :(
We went back to the hotel, got cleaned up and went to the "Pig and Pancake" for breakfast. It was the most delicious breakfast I have had in a long time. I highly recommend it.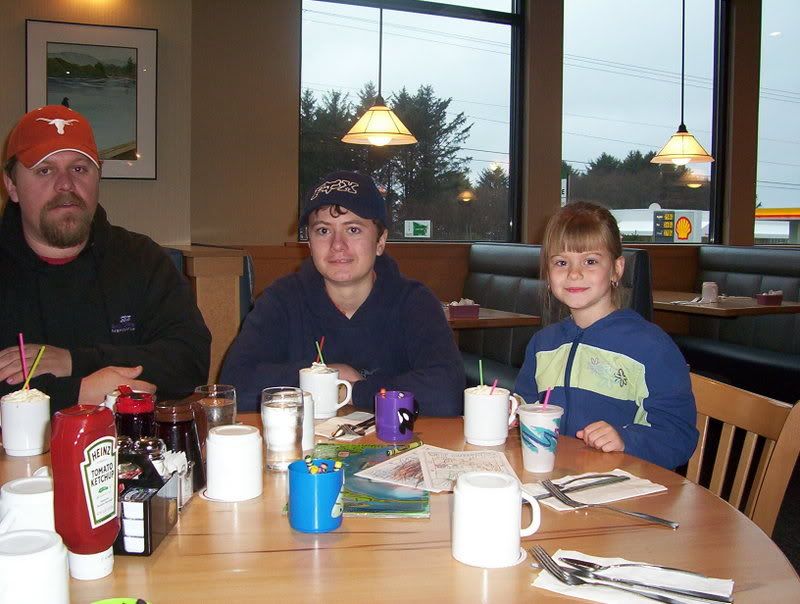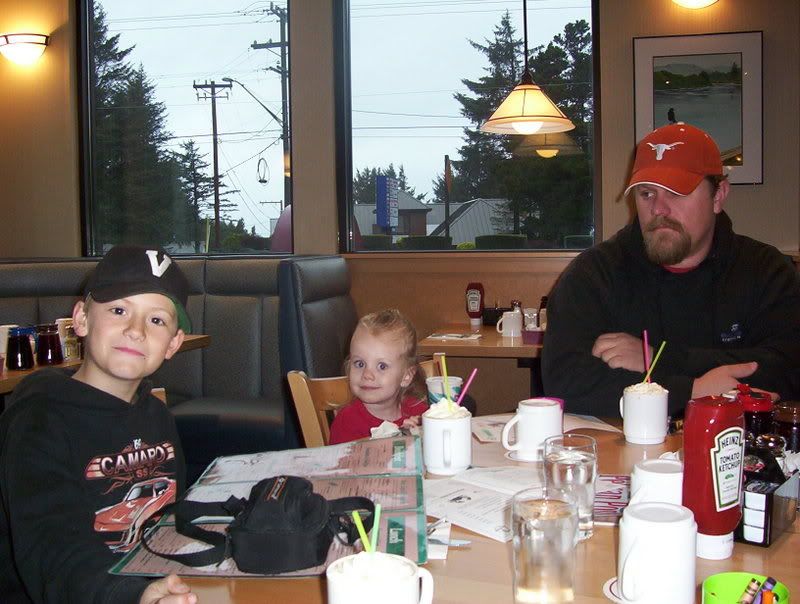 We decided to drive to Newport and got to the aquarium since it was very rainy and it was expected that Saturday be a nicer day. First of all we stopped at Mariners Square, right on the port. Unfortunately the Undersea gardens were closed and we didn't want to pay full price to just do Ripleys Believe it Or Not , and the wax museum. We did stand out by the pier and watch some crabbing boats and a noisy seal.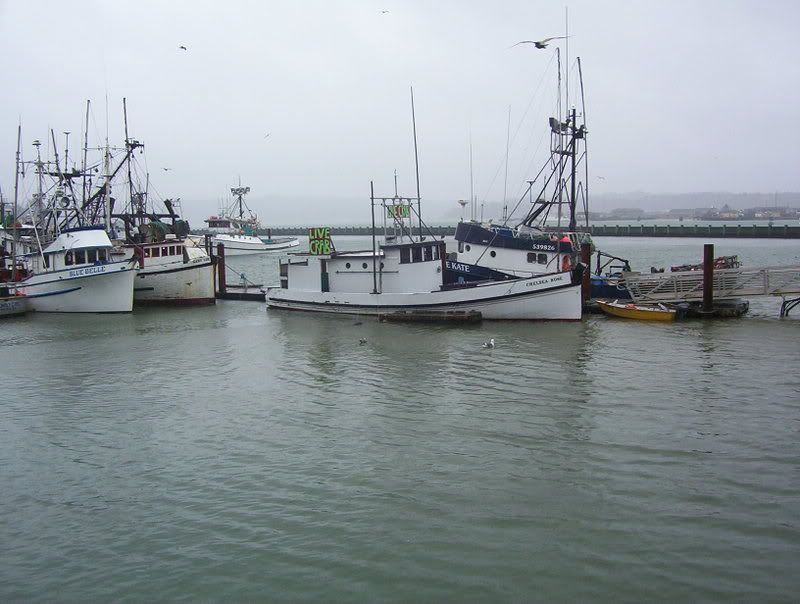 It only took a couple hours to see everything, but the kids really enjoyed it.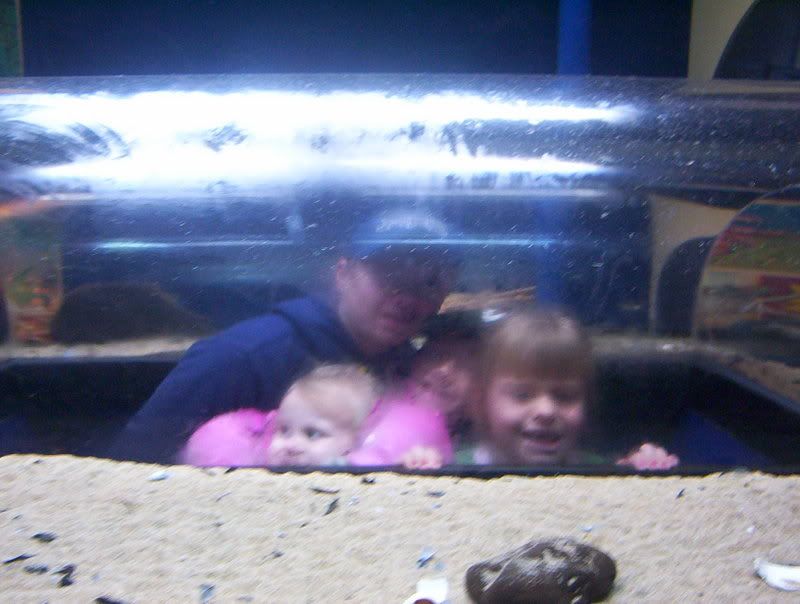 The kids in an "aquarium".
The kids touching sea urchins and starfish.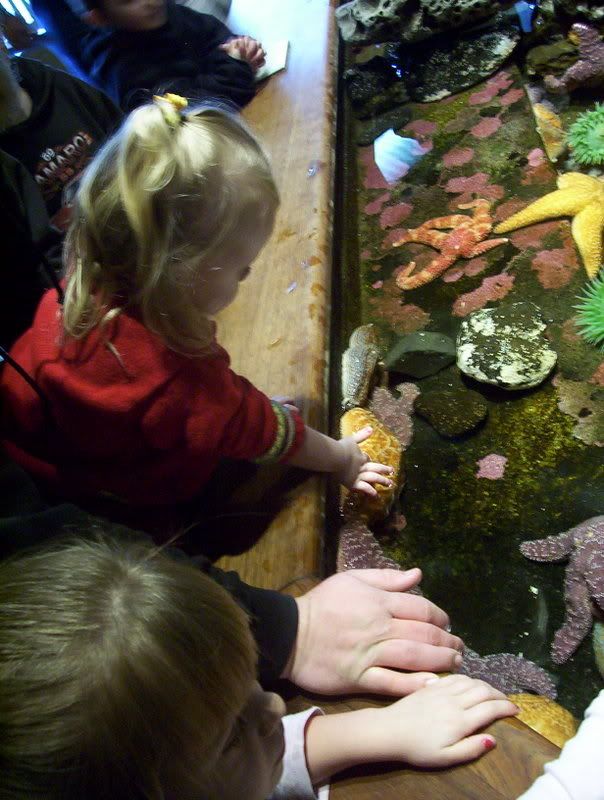 There was a huge Aquarium with Sharks and sting rays which the kids really loved. But their favorite thing was the Sea Lion and seals. We probably watched them for 30 minutes. There was a one that made us laugh every time it swam by because it was always upside down. We were also lucky enough to be there at feeding time and they did lots of cool tricks for us.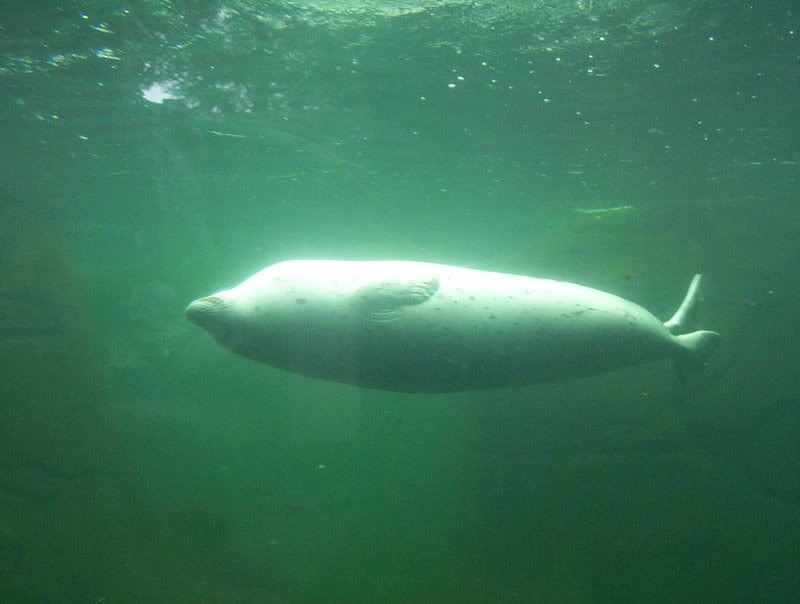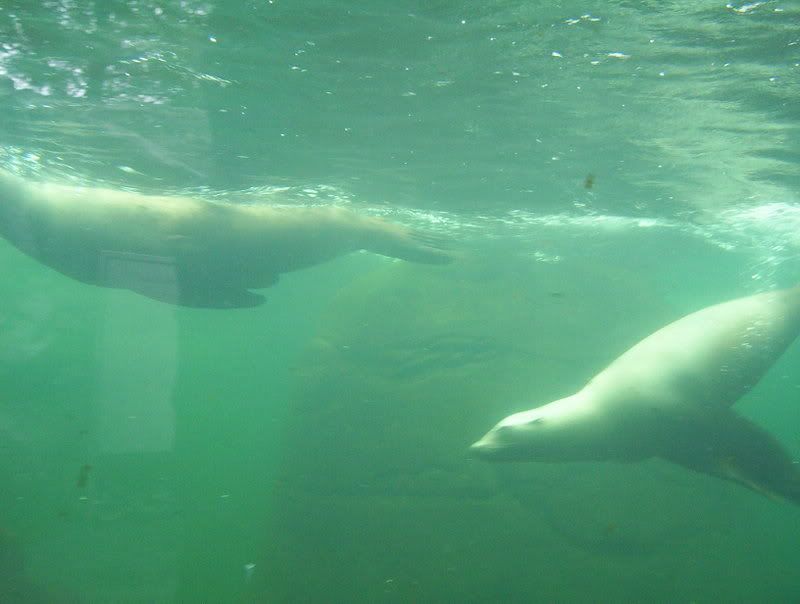 An otter rolled up into a ball.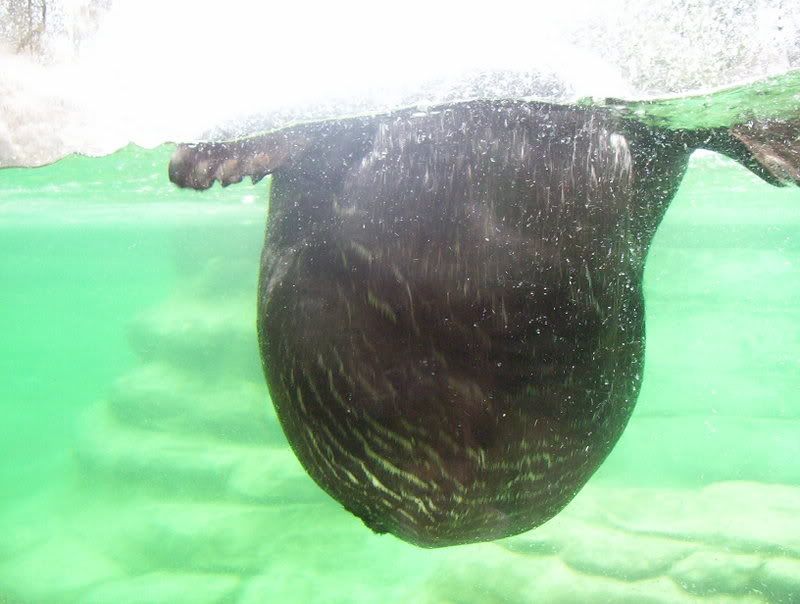 We headed back to Lincoln City and found Gallucci's Pizzeria. The pizza was descent, the salad bar was good, but the best part was that we spent probably 40 bucks on video game tokens and had a blast with the kids.
We headed over to the outlet malls and had a god time rushing around to all the stores before they closed at 6 (it is still off season for them so everything seems to close early). We bought the kids all sorts of stuff they didn't really need. Jared got a 100 dollar wallet for 19 bucks and I got a much needed HAT! My hair doesn't like the humidity...AND I thought the hat looked cute on me too...LOL
After the Outlet mall we went bowling. We haven't done that since Joshua was small, and we had a terrific time.
We were all basically exhausted at this point and decided to head over the the DQ for some burgers and ice cream. We took them back to the hotel and ate and vegged until everyone crashed.
We got up and everyone wanted to go to the Pig and Pancake again...lol So we did. The waitress wasn't as good as the Friday's but the food was still fabulous.
Joshua needed a pair of swim trunks and we all wanted some flipflops or water shoes so we headed to the Goodwill. I love those thrift stores...(yep I'm a freak..lol). We all got shoes and buckets for the beach and we headed for the beach. We spent a long while there just walking, gathering shells and watching people fly kites. It was so fun and relaxing...and a bit nippy but not bad.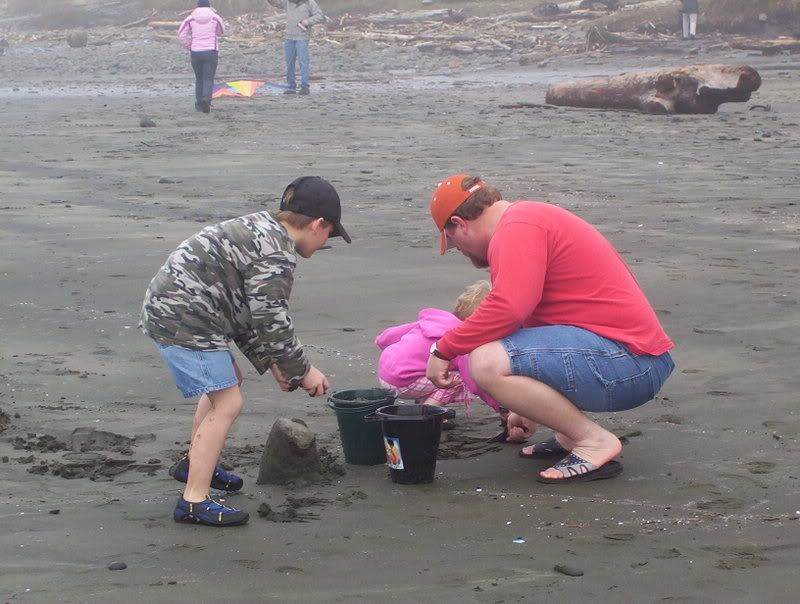 We went to Mo's for an early dinner. http://moschowder.com/ It was awesome to sit and eat dinner, and be able to watch the ocean at the same time. There is a pier there that has binoculars too. We took our time eating dinner and looking in the gift shop. I bought myself a small glass float. Next time I am going to blow my own glass float. (there are a couple places in town to do that).
We headed back to the hotel and changed again. We headed back to the beach. We spent quite a while there, and didn't leave until after sunset. I am going to miss it.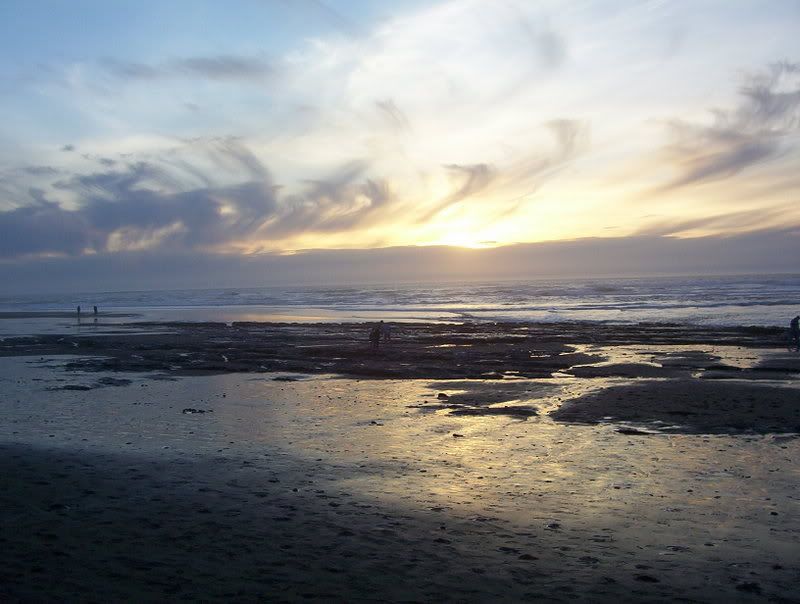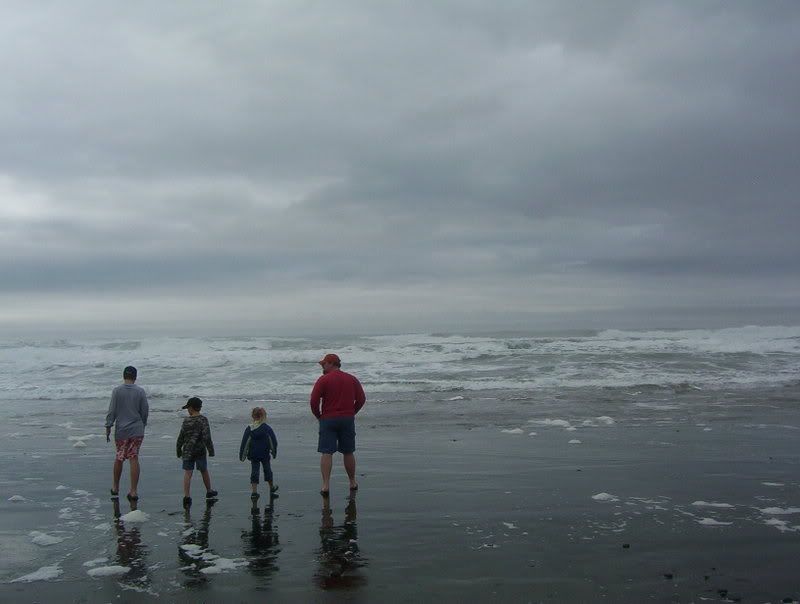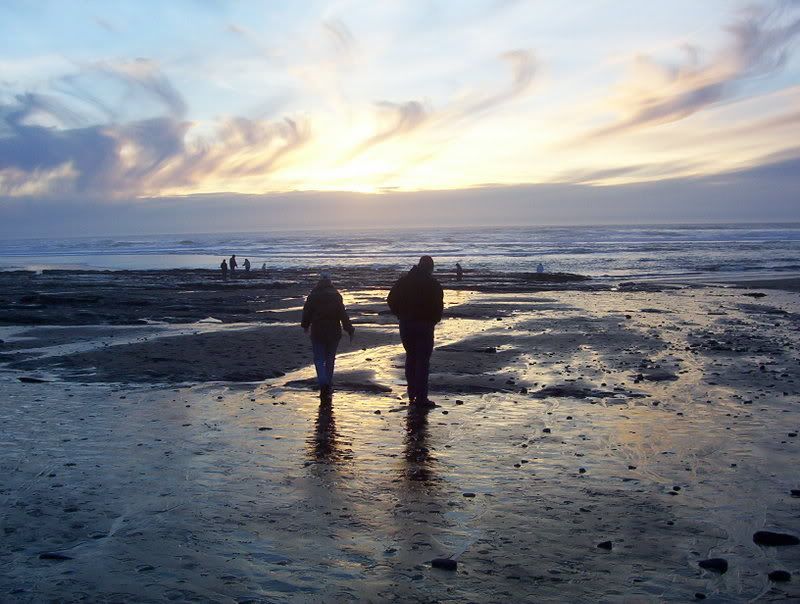 We went back to the hotel again, and got cleaned up. We headed to cold stone for ice cream. We took another drive around town and headed back to the hotel and chilled.
For Sunday there isn't to say. We left the hotel, went to McD's for breakfast, stopped at the falls, saw some more mountain goats and sheep ate lunch at Wendy's and got home around 6.
we want to go back sometime again before school starts at the end of August. Not sure if we will be able to afford it again so soon, but for sure next time I will pay extra to stay in an ocean front inn, because the ocean if where we wanted to be most of the time.