I was going through some stuff and found some old pictures.
They are anything but pretty.
They are pictures that the hospital took of Jared's side during the operation they did on him to sew him back together.
(They are really graphic so if you have a weak stomach, stop when you get to the pictures.)
It was a Sunday. NEVER ever go water skiing on a Sunday. We knew better. I had promptings. They told me NOT to go. I didn't listen.
It was August of 1996.
Jared and his friend Dave were water skiing at the same time. Dave fell. Jared fell too so that Kat (the lady driving the boat) could swing around give them both the ropes again. She wasn't paying attention I guess. She ran right over the top of Jared. He said "I'm hit!". Dave got in the boat, and we went to pick up Jared. He was bobbing up and down in a circle of red. His life jacket was hanging onto him by a thread. Dave somehow pulled him into the boat. When he was lifted out of the water it looked as if he had been attacked by a bear or a shark. It was the propeller.
For a few split seconds, I freaked. I put my face in my hands and I was going to just lose it. I thought he was going to die...I was sure of it. Then a voice in my head said "Don't do that" (meaning DON'T LOSE CONTROL) And a second time, but this time calmer, and slower "Don't do that". I took a deep breath and assessed the situation. Jared's sister Sharma and Joshua (who was 2 and 1/2 at the time) were on the boat too. Sharma was screaming. I yelled at her "Shut up Sharma!" And motioned for her to try and keep Joshua from being able to see his dad all cut up and bloody. I told Dave to get us to shore (this was before the days of the cell phone boom). On the way to the shore I pushed towels into Jared's side with my knees and used all of my body weight to apply pressure. Jared kept shutting his eyes. I thought he was passing out so I was slapping him to try and keep him awake. He finally told me he was closing his eyes because of the sun so that I would stop smacking him. By time we reached the shore (a matter of maybe 3 or 4 minutes) I had his bleeding completely stopped. We rammed the boat into the dock coming in so fast. There happened to be an EMT on shore. They called the hospital who in called life flight. Life flight was busy, so they took him by ambulance to Holy Rosary Medical Center (about 25 miles away) where they fixed him all up.
He had busted out a few ribs, sliced open his lung (so it collapsed) cut his diaphragm, and his liver. He also had the same cuts on his thighs. The doctor said that the most threatening cut was actually one that is not pictured. A cut that was less than a centimeter from severing his femoral artery. The Dr. said if that had happened he would have bled to death.
Jared spent 8 days in the hospital. He has so many visitors that the part of the room meant for another patient, was cleared out and just chairs put there.
These pictures are in order from before they started the operation, to when they were finished and had him all stapled up.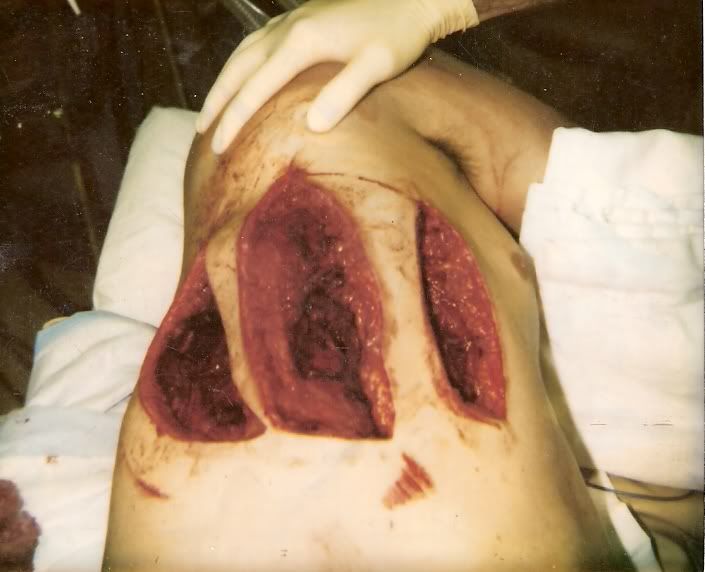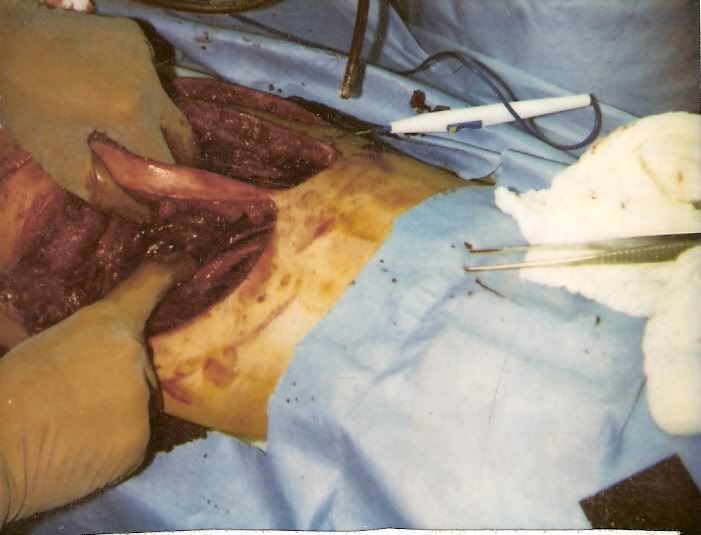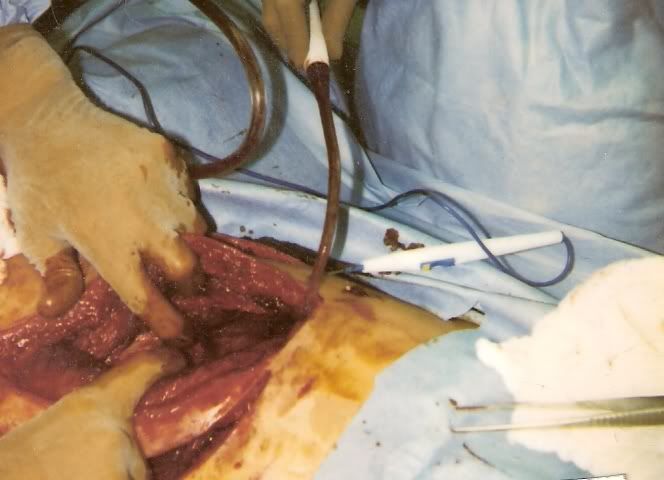 I was calm the whole time. I helped the nurses so everything from changing dressings, bathing him, emptying his pee bag, measuring the fluid from his chest tubes and other fun stuff...and they all said "you should be a nurse". I had never thought about it before. But since that day, that is what I thought I might like to do.